ICED23: The 24th International Conference on Engineering Design
University of Bordeaux, France
24 - 28 July 2023
Design in a complex world
For full details, go to: iced.designsociety.org
Follow us on the dedicated ICED Conference's LinkedIn account for all the latest updates: ICED Conference LinkedIn
ICED23 Late Registration has been extended until 07 July 2023, and details can be found here.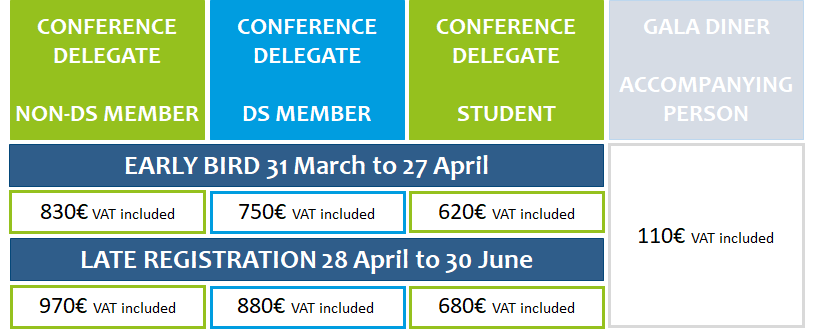 About the Conference
Design and engineering are fundamental activities that interact in shaping the world in which we live. Nowadays, we can see a world full of promising technologies, a hyper-connected world in which information is paramount. However, the environmental impact of these technologies is a great societal concern. Sustainability is becoming a central issue for future generations. Design must therefore surely reinvent itself by embracing the broader issues of designing complex systems in a complex socio-technical environment with limited resources. In this regard, the ICED conference is a unique forum to discuss the academic, educational and industrial issues and the needed changes.
The conference will be organized around plenary, podium, and discussion sessions. Academic and industrial experts will deliver high-level keynotes. The General Meeting of the Design Society, the Special Interest Group Day and Young Members' event will offer great opportunities to share and discuss ideas. An Industrial Day will allow a deep dive into developments and innovations for sustainability and for discovering key technical focus of nearby companies. Finally, social events will give an opportunity to appreciate Bordeaux wine and French gastronomy.
We look forward to welcoming you at ICED23!
Conference Planning
In preparation for ICED23, the Organizing and Program Committee met at ENSAM in Paris from 23 - 25 January 2023. Together they reviewed the contributions and planned the sessions. The Institut für Produktentwicklung und Konstruktionstechnik (PKT) supported the meetings with the diligent cooperation of Dieter Krause, Lukas Schwan and Jan Küchenhof. The full details and pictures of this event can be found here - ICED23 Conference Planning Event
Organising Committee
Denis TEISSANDIER, Conference Chair, University of Bordeaux
Nicolas PERRY, Conference Chair, Arts et Métiers Institute of Technology, Bordeaux
Jean-François BOUJUT, Grenoble INP - UGA
Julie LE CARDINAL, CentraleSupélec, Université Paris-Saclay
Pascal LE MASSON, Mines Paris - PSL
Jérémy LEGARDEUR, ESTIA Institute of Technology, Bidart
Christophe MERLO, ESTIA Institute of Technology, Bidart
Kristin PAETZOLD, Technische Universität Dresden
Vincent ROBIN, University of Bordeaux
Bernard YANNOU, CentraleSupélec, Université Paris-Saclay
Marc ZOLGHADRI, ISAE-Supméca, Paris
Programme Committee
Kevin OTTO, Program Committee Chair, University of Melbourne, Australia
Claudia ECKERT, The Open University, United Kingdom
Boris EISENBART, Swinburne University, Australia
Benoit EYNARD, Université de Technologie de Compiègne, France
Dieter KRAUSE, Technische Universität Hamburg, Germany
Josef OEHMEN, Danmarks Tekniske Universitet, Denmark
Nadège TROUSSIER, Université de Technologie de Troyes, France
Contact
The University of Bordeaux on the west campus of Montesquieu.
16 avenue Léon Duguit, 33608 PESSAC, Bordeaux.
Email: iced@designsociety.org