Members' Dashboard
Update your information and contribute to the Design Society!
Making it easier for you to contribute
The Design Society website is filled with functionality that allows you to contribute and interact with other members. To make it easier for you to access the most useful features of the website that our members can influence, we have created the Members' Dashboard.
Here's some of the features:
Access and edit your permissions and preferences
In this part of the dashboard, you can update your personal data and add links to your professional website and profiles such as LinkedIn, ORCID, ResearchGate and Google Scholar. You can also add a short professional biography, which will show up on your Member Profile, visible for other DS members, if you allow it.
In addition, you can change your password, update your photo and even personalise your own profile page on the DS website.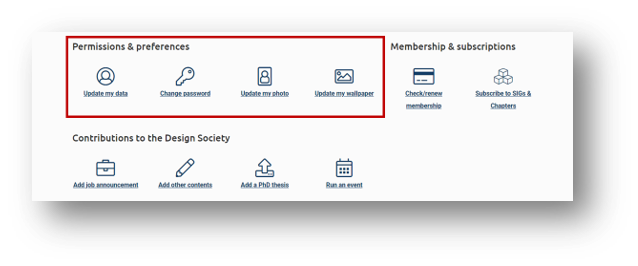 Membership and subscriptions
In this part of the dashboard, you can check and renew your DS membership, plus you can subscribe to any number of the Design Society's SIGs and Chapters. Signing up to a SIG or Chapter means that you will automatically gain access to the respective subsite(s) and begin collaborating directly with the SIG or Chapter.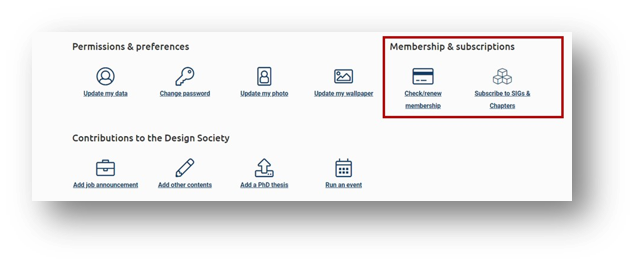 Contribute to the Design Society
In this space, you can add any contents element as a proposal for the DS Webmaster to publish on the website. Job announcements are particularly popular with our members, so we've predefined a function to create these directly.
In addition, you might like to share the PhD theses of your research group by choosing the Add PhD thesis option, where you can upload or share the link to a PhD thesis, directly into our Thesis Repository. The thesis repository is a closed collection of theses, available for DS members to search in and download, or link to. It is one of our popular download areas on the website, making it a good place to ensure dissemination of your group's PhD results.
Finally, if you are considering running an event within the Design Society, we have included an information package, explaining the details of event organisation and support, when you choose the Run an Event option.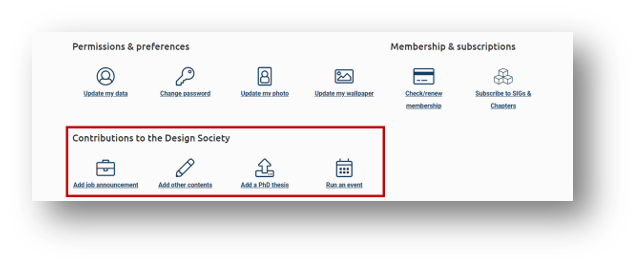 We hope that you will enjoy this functionality on the DS website and look forward to seeing an even more interactive community!